Clare Minter
"My aim is to enhance every woman's health and wellbeing - whatever their stage of life!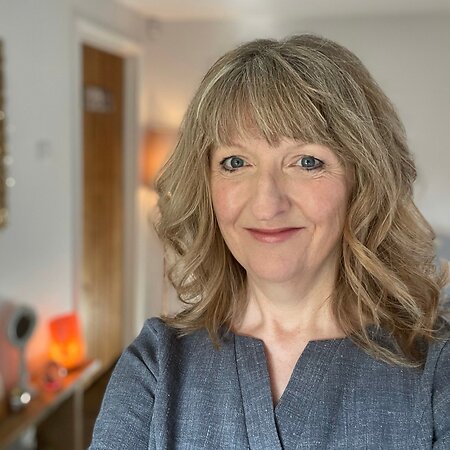 My journey to reflexology began over twenty five years ago, when I started suffering with frightening panic attacks!

They came as a complete shock to me and, although I was going through some stress at the time, I'd always considered myself resilient and able to cope with most things. I now realise that I'd probably been ignored the warning signs for some time, until my mind and body told me that enough was enough!

The gentle holistic therapy of reflexology was exactly what I needed and the deep relaxation I experienced during my sessions, allowed me to 'switch off' from my busy role as mum to two young boys. I believe that being able to talk to my lovely therapist played a significant part in my recovery and it is an important part of what I offer in my own therapy room.

When my therapist opened her own reflexology school, I jumped at the chance to train for a new career, as I knew that I wanted to help others who were struggling…

One year and lots of late night study and numerous case studies later, I finally qualified and entered the fascinating, wonderful world of reflexology!

I'm passionate about treating all Women's Health issues and love being able to provide support at whatever stage of life you're at!

So whether you're pregnant, experiencing fertility issues, approaching menopause (or maybe out the other side) - or just want to optimise your overall health and wellbeing - I'd love to help you!


---
Throughout my career I've undertaken additional training and self-study and I continue to enhance my knowledge, by carrying out the annual CPD required by my professional associations.
I have a special interest in optimising Midlife Health and Wellbeing… I am passionate about encouraging women to live their best lives and support them through the transition to menopause and beyond!


Shortly after gaining my initial qualification, I carried out specialist maternity reflexology training and worked on a voluntary basis, within a hospital maternity unit. I have supported hundreds of clients throughout pregnancy and have taught maternity reflexology on training courses around the UK.
For the past fifteen years, I've been working with couples struggling with fertility issues and know that stress can have an impact on the ability to conceive. But I've seen how reflexology and making lifestyle changes can lead to a happy outcome!


I am a qualified Facial Reflexology and Zone Face Lift practitioner and have brought these natural non-invasive skin enhancing treatments to my practice. My clients not only want to feel good, but look good too!
I am a qualified Flower Essence Practitioner and provide bespoke Bach Flower Remedies prescriptions - a wonderful way to boost emotional wellbeing!


I am a member of the Association of Reflexologists.
I am registered with the Complementary and Natural Healthcare Council.


I am listed on the NHS Register.
My practice has been inspected and granted a Special Licence by Essex County Council Trading Standards - so please be assured that I always work to the highest of standards.



---


For more information about maternity and fertility reflexology, please visit my dedicated website www.maternityreflexologyessex.co.uk.