Zone Face Lift - totally natural skin enhancement

"Since I've had my treatments, my friends have commented on how smooth and glowing my skin looks, which has been a great confidence boost!"

Jackie C., Gt. Dunmow
'Age Well Naturally'
If those frown lines are starting to bother you, but you want to avoid invasive cosmetic procedures and are interested in a natural alternative, then Zone Face Lift could be for YOU! This fabulous treatment has been lauded in the Press as "a credible alternative to Botox" and, until just recently, was a well kept Celebrity beauty secret.

Since undergoing training with it's pioneer - Belgravia-based "Facial Reflexologist to the Stars", Ziggie Bergman - and introducing it to my Therapy Room, I have seen how even after just one treatment, my clients leave with a natural and radiant glow - AND THEY LOVE IT!

This deeply nurturing experience can make you feel good and LOOK good - with skin enhancement becoming more noticeable with cumulative treatments. Each session is a treat for the senses and will encourage deep relaxation...

Here's what the Press have to say...
Daily Mail - "Botox backlash"
The Telegraph - "Take 10 years off in 12 weeks"
Sunday Express - "Unlike any other facial I have tried"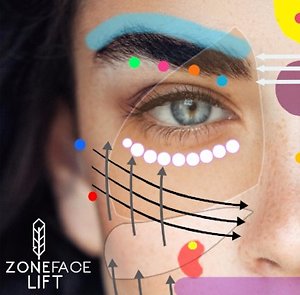 Zone Face Lift may be booked as a stand-alone treatment and is a fantastic way to prepare for a special occasion or big night out! Just one session should leave you with a radiant and natural glow, but a Treatment Package is recommended for optimal skin rejuvenation results - including a softening of fine lines and wrinkles.

BOOK YOUR TREATMENT SESSION HERE



ULTIMATE ZONE FACE LIFT - FOR OPTIMUM SKIN ENHANCEMENT

Ultimate Zone Fact Life is the full 12 week Programme - incorporating Facial Reflexology, Facial Massage techniques, Holistic Facials (using wonderful REN Clean Skincare products) and the use of specialist tools to 'lift' and sculpt the face. The resulting increased oxygenation and nerve stimulation to the face, may result in more contoured, fresher, tighter and younger-looking skin.

Zone Face Lift treatments help:


Increase collagen and elastin production - by plumping up skin and reducing wrinkles

Eliminate pigmentation, acne and reduce puffiness

Relax tight muscles in the face, neck and shoulders

Tighten and tone the skin of the face and neck

Reduce sinus congestion

Enhance skin condition

Reduce stress by encouraging calmness and deep relaxation

Bring relief if you are suffering with Migraine or Headaches


CHOOSE A TREATMENT PACKAGE AND SAVE

Please note that Zone Face Lift is not suitable if you have had Botox or Dermal Fillers in the last six weeks, but you may commence treatments after this time.

Due to the reclined nature of this treatment, ZFL is not suitable beyond 18 weeks of pregnancy.