If you're expecting a baby, you've come to the right place!
I've been a professional Maternity Reflexologist for over twenty years and I'm extremely passionate about helping every woman to have the best possible pregnancy and birth experience...
Reflexology treatments during pregnancy are a soothing and calming experience and may help ease many common discomforts of pregnancy.


They'll enable you to relax and connect with your little one and will prepare you, both physically and emotionally, for labour.


Postnatal sessions will restore balance to your mind and body after birth and may assist with discomforts - including sleep disturbance, breastfeeding issues and constipation. They'll also provide some soothing (and probably much needed) 'you time'!
"Thank you for all your help over the last 8 months. I really feel your reflexology sessions were such a help to me during my pregnancy and really helped me to relax. My birth experience was very positive, with my active labour lasting 3 and a half hours... I managed to deliver him with no pain relief, which was fantastic."

Heather M., Great Chesterford (first baby)
---
REFLEXOLOGY AND IT'S IMPACT ON LABOUR
A research study found that reflexology treatments during pregnancy, significantly reduced pain during labour and reduced the length of the first stage. (1)
Feeling anxious about giving birth?
Putting time aside for regular reflexology treatments in the lead-up to your baby's arrival, not only ensures you invest in the new little life growing within you, but could also affect your labour outcome!
Research has found that first time mums who received 10 reflexology treatments leading up to birth, had average labour times of 5 to 6 hours - the textbook average is 24-48 hours! It was also noted that the group treated with reflexology needed far less pain relief during labour. (2)
Over the years I have helped hundreds of expectant mums to prepare for labour!
You'll find a selection of my
Client Feedback here
"Clare was such a help in my last weeks of pregnancy. Not only does the reflexology feel relaxing and amazing, Clare offers a much more holistic approach, giving me sage advice and tips for my labour. A real find."

Caitlin H., Saffron Walden
Please be aware that as a professional Maternity Reflexologist, I work in a complementary way alongside the skilled work of your Midwife (your main healthcare provider during your Pregnancy).
You'll therefore need to confirm that your Midwife has been made aware that you'll be attending a reflexology session, prior to your first treatment.
Short film - One Woman's Experience of Pregnancy Reflexology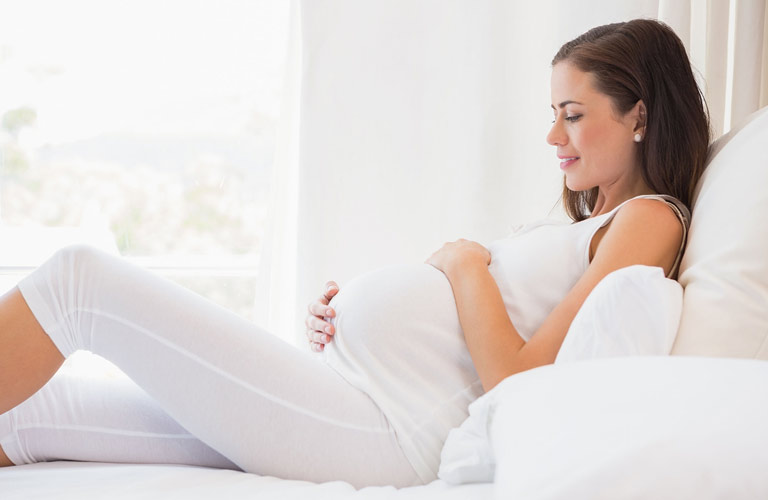 ---
PREGNANCY DISCOMFORT
It's extremely likely that you'll experience some minor discomforts during pregnancy, which may include:
Nausea/Morning Sickness

Constipation

Fatigue

Heartburn/Acid Reflux

Mood swings
Insomnia

Fluid Retention

Back Pain

Hip/Pelvic Pain

Anxiety

Sciatica
"Thank you for helping me to relax and helping to relieve my pelvic pain and other pregnancy-related ailments! I really believe that the sessions contributed to me having such a fast and relaxed labour."

Marie D, Newport
Reflexology sessions may help ease many pregnancy discomforts and are a great way to 'switch off' and have some quality time, before your little one arrives.
With such dramatic changes going on, both physically and emotionally, now could be the perfect time to schedule some calming and restorative reflexology JUST FOR YOU!
---
PREGNANCY-RELATED HEALTH CONDITIONS
Sometimes a more complex health condition may develop during pregnancy...
Hyperemesis Gravidarum
is thought to affect up to as many as 1 in 50 pregnant women and in extreme cases may cause dehydration due to constant vomiting. If you are one of the unlucky sufferers, you may have nausea and sickness throughout the day and have no appetite. The calming effects of Reflexology may be particularly beneficial and specific techniques can be used to help you cope with this condition.
Pelvic Girdle Pain (PGP)
, also known as
Symphysis Pubis Dysfunction (SPD)
), is a potentially debilitating complaint that may last throughout pregnancy. In more severe cases as pregnancy progresses, additional support may become necessary to take pressure off the affected area. Reflexology sessions encourage relaxation and specific techniques may help in the treatment of this condition, which may make the use of crutches or a wheelchair unnecessary.
Carpal Tunnel Syndrome
can affect some expectant mums - usually in the later stages of pregnancy. Pressure on the median nerve and tendons in the carpal tunnel of the wrist, can cause pain and tingling in the hands, which travels up the arms and into the back. Reflexology may encourage the elimination of excess fluid build-up, which seems to be a primary cause of the condition.
"I was feeling really tired and uncomfortable with Pelvic Girdle Pain that was stopping me from sleeping. After just one treatment I was more or less cured!"

Rebecca S., Saffron Walden
---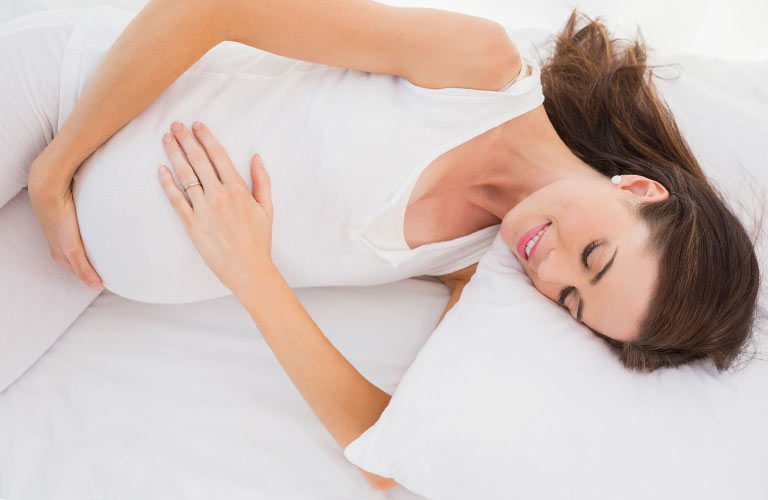 REFLEXOLOGY AFTER YOUR 'DUE DATE'
Only about 4% of women give birth on their 'Due Date' and many have their babies after that. At 10 days or more post-term, a medical induction may be suggested to start and accelerate labour. But why not try a natural way to get things started first?
Reflexology treatments in the later stages of pregnancy will promote deep relaxation and may encourage you to 'let go' - which sometimes has the desired effect! Specific acupressure techniques can be used that may encourage the birthing process to start, but obviously your little one will only arrive when they are ready!
Feedback from clients who've had just one post-term reflexology session, has shown that they leave the therapy room feeling much calmer, more confident and better prepared for the birth of their baby.
"Thank you so much for the amazing treatment on Wednesday evening. You'll be pleased to know that I started having contractions in the early hours of Thursday and went into established labour yesterday morning. All the tips on breathing and positive energy you gave me really helped keep me positive and focused throughout. I really believe your treatment helped me in so many ways, so thank you so much!"

Lisa P., Braintree (VBAC delivery)
---
REFLEXOLOGY FOR LABOUR
Earlier in my career, I was able to work on a voluntary basis within a hospital Maternity Unit. I offered reflexology to women in labour and was delighted to see the impact it had on the birthing process. Reflexology techniques helped to;
Relax and calm body and mind

Regulate and relieve the intensity of contractions

Provide natural pain relief
If you are in the later stages of pregnancy, I'll show you some simple hand reflexology techniques that you'll be able to use during labour. These will ensure that you remain calm and focused and may help to relieve pain - which may enhance your entire birthing experience!
"I had a really good natural labour, so fast I ended up with zero pain relief! I used a lot of the relaxation and breathing you helped me with, so thank you!"

Emma M., Little Canfield (first baby)
---
POSTNATAL REFLEXOLOGY
A research study has found that reflexology treatments can help improve the quality of sleep in women postnatally. (3)
Reflexology is a gentle and natural way to help you recover following the birth of your baby. Huge physical and emotional changes have taken place in the space of nine months and it will take a while for your body to return to normal...
In the days following childbirth, the sudden huge drop in hormone levels may leave you feeling overwhelmed. This happens to most new mums and is commonly known as the 'baby blues'. The disturbed nights that feature heavily in the early weeks can also lead to a feeling of sheer exhaustion!
The good news is that a nurturing postnatal reflexology session will give you an opportunity to rest and recharge, It will help promote your body's own natural healing processes and may help ease some common discomforts, such as breastfeeding issues and constipation.
Reflexology has also been shown to help lift low mood and enhance an overall sense of wellbeing!
---
1 Valiani M et al - 2010 "Reviewing the effect of reflexology on pain and outcomes of the labour of primiparous women" Iranian Journal of Nursing and Midwifery Research. 15(Dec) p302-310.
2 G. Motha and J. McGrath - 1992 "The effects of reflexology on labour outcome".
3 Li C-Y et al - 2011 "Randomised controlled trial of the effectiveness of using foot reflexology to improve quality of sleep amongst post partum women" Midwifery. 27. p181-186