Facial Reflexology - relaxation plus a natural radiant glow...

"Just had the most wonderful Facial Reflexology session. My skin feels and looks fresh and glowing. Highly recommend this treatment."

Lucy K., Ashdon



Enhance your skin - and your wellbeing...
Is your skin starting to look as tired as you feel?

You may be aware of how Reflexology carried out on the feet can help enhance your wellbeing. Well, Facial Reflexology has the same wonderful healing benefits, but with one other unique effect...

The treatment may help stimulate collagen and elastin production - leading to fresher-looking and more radiant skin.

I have been trained by London-based Facial Reflexologist, Ziggie Bergman, who has developed the treatment by drawing on a combination of Native American techniques, Asian body mapping and Zone Therapy.

Facial Reflexology helps stimulate blood flow, which may improve the tone the facial muscles and just one treatment should leave you with an enhanced healthy glow!.

During your treatment session, a Neal's Yard Organic Facial Oil (chosen for your skin type) will be applied to your face and a combination of massage and gentle pressure on reflex points will be used. This will help stimulate your body's own natural healing mechanisms - helping to improve circulation and lymphatic drainage and encourage the release of toxins.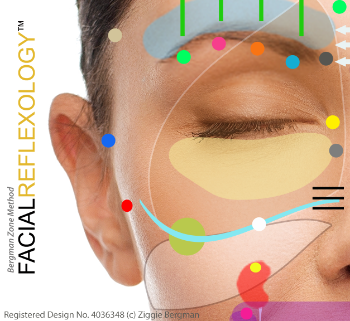 THE BENEFITS OF FACIAL REFLEXOLOGY

Facial Reflexology treatments may also help:


Relieve the effects of stress.

Release muscle tension to leave the face looking softer and younger.

Benefit those suffering with Migraine, Sinusitis, Bells Palsy and Bruxism (teeth grinding).

Induce deep relaxation.

Enhance a general sense of wellbeing.

Please note that if you have had Botox or Dermal Facial Fillers, you will need to allow six weeks before attending a Facial Reflexology session.

Due to the reclined position necessary for this treatment, Facial Reflexology is not suitable beyond 18 weeks of pregnancy.

BOOK YOUR TREATMENT SESSION HERE